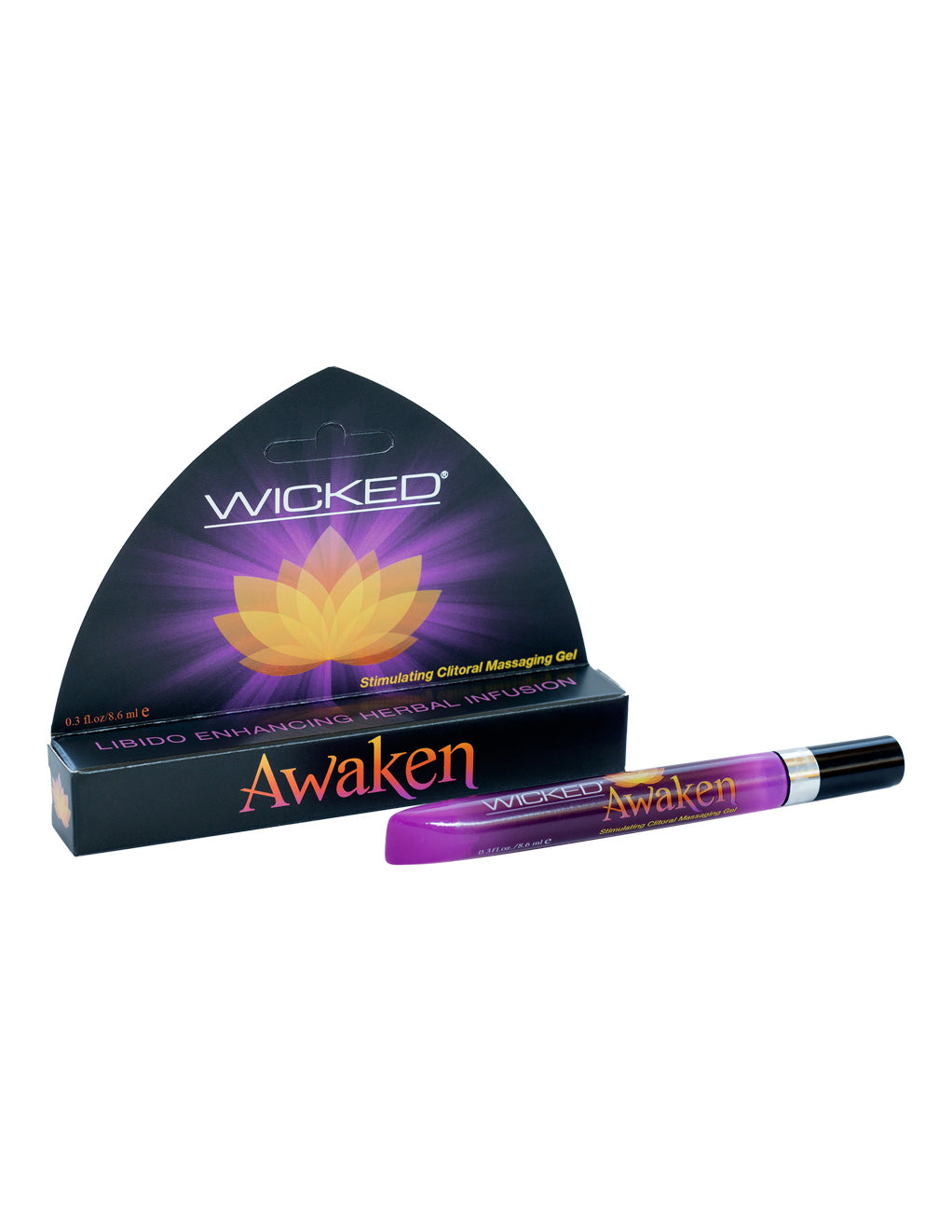 Wicked Awaken Clitoral Massaging Gel
Awaken by Wicked is a clitoral massaging gel.  This gel will heighten your sensitivity and libido.  It is an herbal blend of cinnamon, ginseng root, ginko biloba, and black cohash root extract.  These natural herbs help blood flow to your most sensitive areas.  Rub a small amount on to the head of clitoris and inner labia for max enhancement.  Awaken is vegan.  It is L-arginine, glycerin, and paraben free.  This enhancer is safe to use with toys and is latex friendly.  It is pH balanced and safe to use vaginally.  Pair it with a vibrator or rub some in prior to sex for an orgasmic session.
Ingredients: Water (Aqua), PEG-32, Propanediol, Propylene Glycol, Hydroxyethylcellulose, Menthoxypropanediol, Vanillyl Butyl Ether, Glycyrrhiza Glabra (Licorice) Root Extract, Cinnamomum Zeylanicum (Cinnamon) Bark Extract, Panax Ginseng Root Extract, Rubus Idaeus (Raspberry) Fruit Extract, Ginko Biloba Leaf Extract, Paeonia Albiflora (Peony) Root Extract, Dioscurea Villosa (Wild Yam) Root Extract, Cimifuga Racemosa (Black Cohash) Root Extract, Lepidium Meyenii (Maca), Turnera Aphrodisiaca (Damiana) Extract, Cinnamomum Zeylanicum (Cinnamon) Bark Oil, Rebaudioside (Stevia), Citric Acid, Potassium Sorbate, Sodium Benzoate.
Keep away from direct sunlight
Store in cool and dark place
Avoid contact with eyes
This product is not a contraceptive
Details
Vegan
L-Arginine, Glycerin, & Paraben Free
Size: 0.3 oz
Brand: Wicked