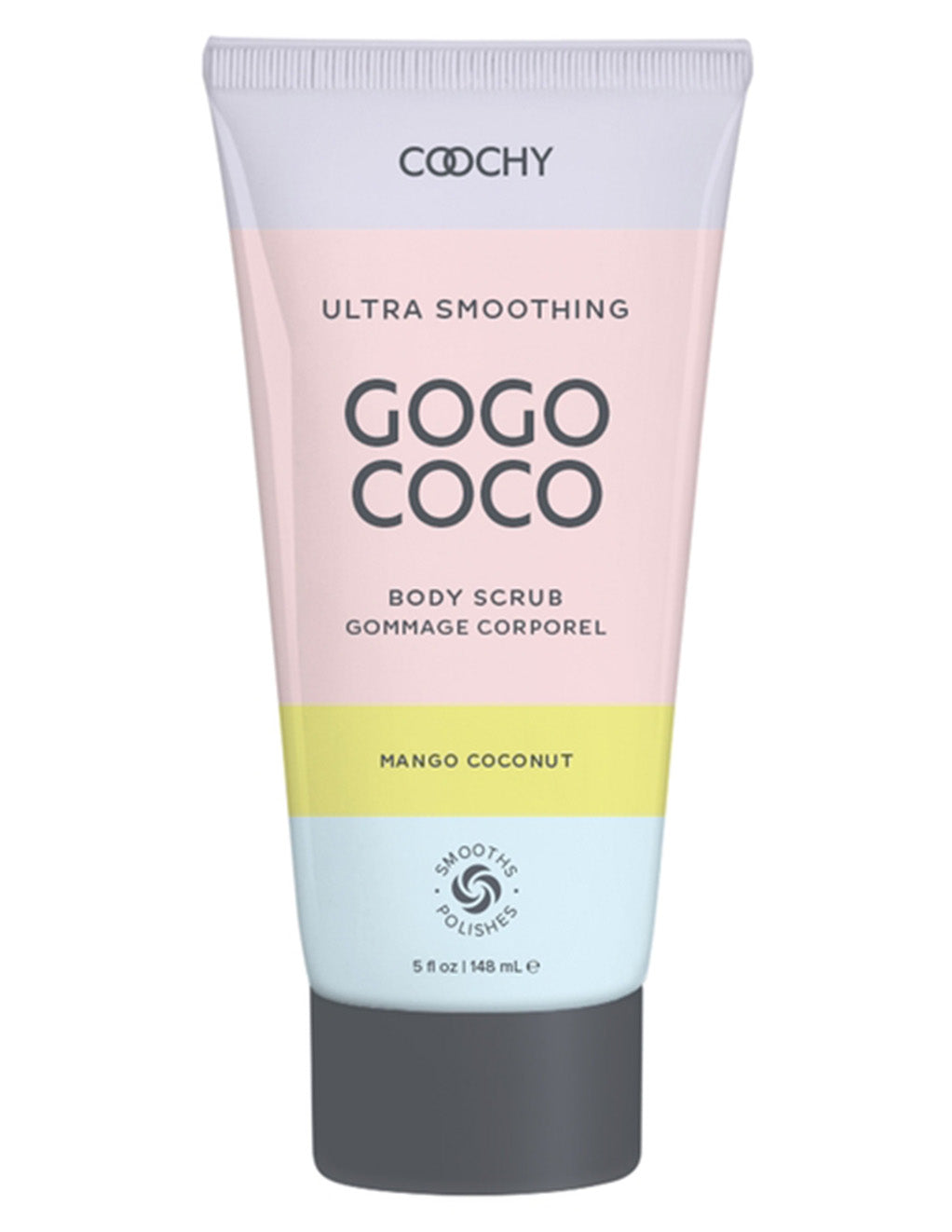 Coochy Ultra Smoothing Body Scrub 5 oz
Prior to shaving, you want to make sure you scrub away any dirt, impurities, or any dead skin than may lie on the surface. Why not do it with something that smells like a tropical escape. Introducing the Coochy Ultra Smoothing Body Scrub. This soothing scrub will polish your skin making glow with radiant soft skin. The mango coconut scent is light and will stay on after you shower, keeping you smelling fresh and clean. This formula is gentle enough to use on all areas of the body. Simply apply onto wet skin, massage and rinse. You may also leave it on as an exfoliating body mask for extra smoothing. 
Key Ingredients:
Cocamidopropyl Betaine: Gentle cleansing agent derived from renewable natural resources, giving the perfect lather
Pyrus Malus Fruit Extract: Anti-aging and skin-smoothing, high in antioxidants
Glycerin: Derived from plant oils, locks in skin hydration
For optimal results, follow these steps using Coochy Ultra products: 1. Trim pubic hair. 2. Exfoliate the skin with Coochy Ultra Smoothing Body Scrub. 3. Apply Coochy Ultra Hydrating Shave Cream. 4. Shave in direction of hair growth. 5. Rinse. 6. Apply Coochy Ultra Soothing Ingrown Hair Oil. 7. Moisturize with Coochy Ultra Silky Body Lotion. 
Ingredients: Water, Polylactic Acid, Decyl Glucoside, Laurel Glucoside, Cocamidoprophyl Hydroxysultaine, Sodium Lauroyl Mtheyl Iseionate, Cocamidoprophyl Betaine, Sodium Cocyl Isethionate, Sodium Methyl Oleoyl Taurate, Pyrus Malus Fruit Extract Glycerin, Carbomer Polycrylate Crosspolymer, 6, Phenoyethanol, Carylyl Glycol, Ethylhexyglycerin, Hexylene Glycol, Citric Aci, Sodiu Hydroxide Fragrance.
Details
Scent: Mango Coconut
Size:
Brand: Coochy