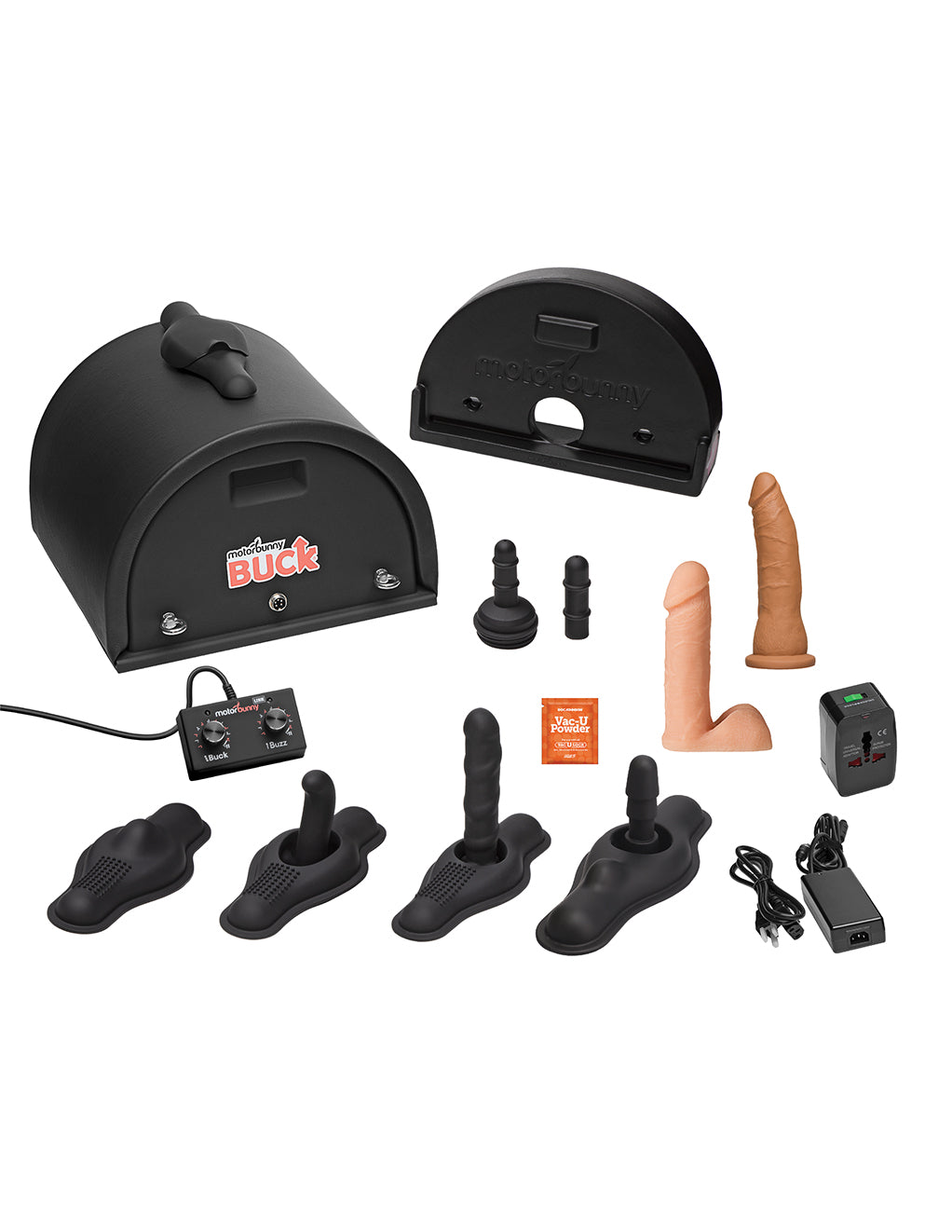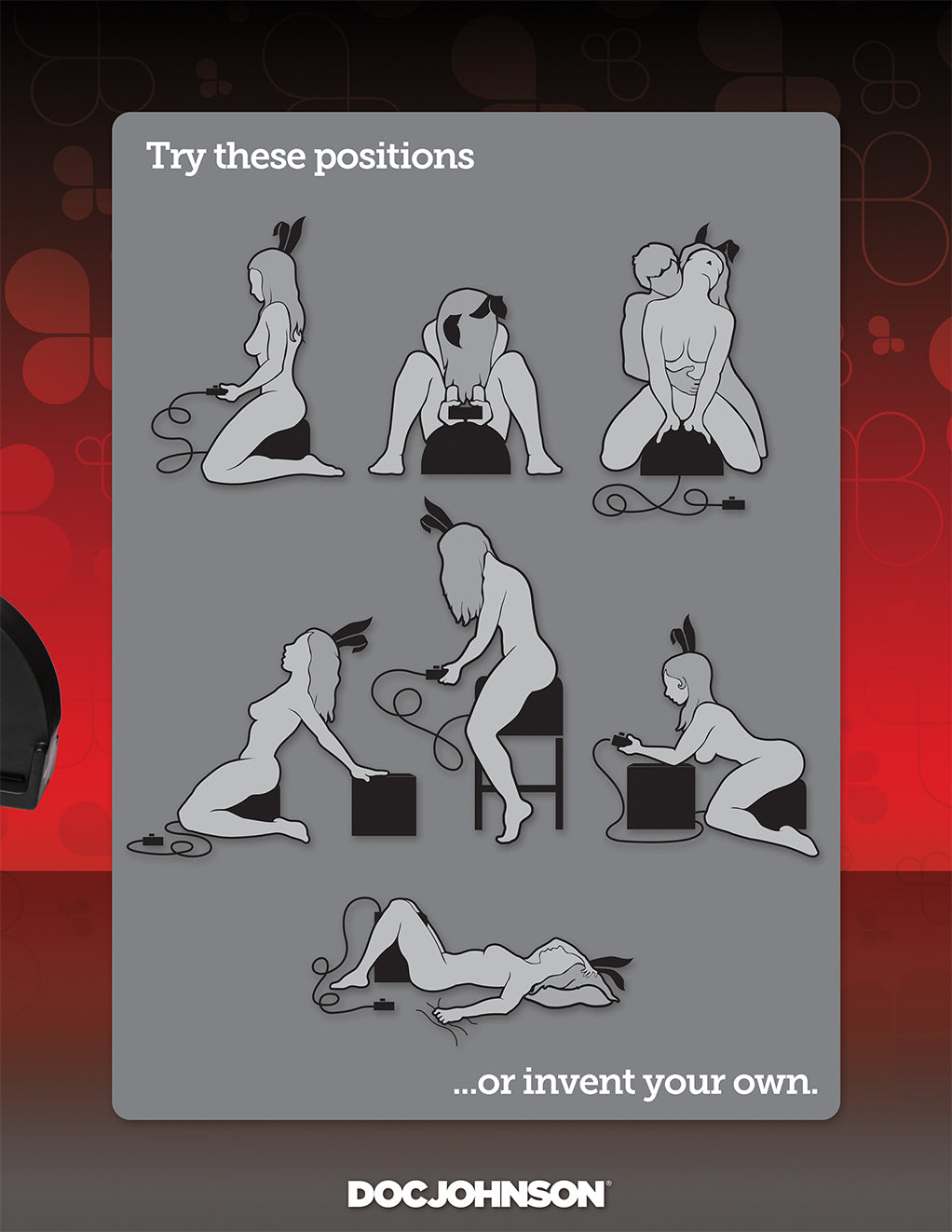 *Online only! Not available in stores. The Buck by Doc Johnson & Motorbunny is a hybrid saddle vibrator and thrusting sex machine.  It is remote controlled with the Motorbunny Link-enabled Controller, which allows it to be controlled via app as well.  Use Buck endlessly with unlimited A/C power supply.  Buck is portable with a height of 10 inches, 11.5 inches width, and 13.5 inches of length.  It comes with 6 silicone attachments: 3 buck attachments, 1 Vac-U-Lock adapter, 7-inch Thin Dong, and 7-inch Realistic Cock with Balls.  Play with 2 different thrust motions, 11 increments of speed, and 11 intense vibration levels.  Buck comes with Eva Wedge to enjoy Buck in any position you desire.  
Buck has 2 separate thrusting motions.  Start with the G-Thrust toggle attachment to move your attachment up and forward.  The second thrust attachment, Thrust toggle, moves your attachments directly up and down.  Use the G-Thrust toggle with the slightly rigid attachments for direct G-spot stimulation.  Use the straight attachment with the Thrust toggle for a more direct thrusting sensation.
This hybrid saddle comes with 3 silicone attachments: Flat, Thumper, and Sweet-Spot.  Use the flat attachment for more direct stimulation to the clitoris, labia, perineum, and anus.  The Sweet-Spot is curved & smooth.  Use this attachment with either toggle attachments for direct thrusting and G-spot/P-spot stimulation.  The last attachment, the Thumper, is a thick attachment with a slight curve and grooves.  This attachment goes perfectly with the Thrust toggle.  It gives you a delightful fill with each thrust.  Its tip targets the G-spot/P-spot while its bulbous sides massage you open with each thrust.
Buck has a controller that gives you 11 increments of thrust speeds and 11 increments of incredible vibration.  It's Motorbunny Link-enabled Controller lets you control this sex machine on an app.  Mix and customize your pleasure.  Explore tons of pre-programmed "Buzz" & "Thrust" combinations.  Share control of your Buck wirelessly in the same room or from anywhere in the world.  With two taps you can create a secure, private link to share with your lover via text.
Last but not least, Buck comes with "The Right Angle" Eva Wedge.  This wedge allows you to mount your Buck at a 90 degree angle to use for doggystyle position.  Prop it up against the wall or something weighted to safely enjoy it in this position.  Buck fits snugly into the sturdy Eva foam form, allowing you to experiment on a stable base. 
Shop additional Vac-U-Lock Attachments by clicking here.
Detach silicone attachments before cleaning
Wash silicone toy with toy cleaner and warm water
Silicone toys compatible with only water based lubricants
Details
Color: Black
Vibration Motors: 0.08 HP-7000 Vibrations per minute
Thrust Motor: 0.04 HP
Durability: 2 people- up to 1000 lbs.
Weight: 17.8 lbs
Buck: 10" H x 13.5" L x 11.5" W
Vac-U-Lock - 7 inch Thin Dong: 7.5" L x 1.5" W, 7.5" insertable length
Vac-U-Lock - 7 inch Realistic Cock with Balls: 7.25" L x 1.75" W, 6.5" insertable length
Vac-U-Lock Silicone Attachment for Motorbunny Buck: 10.25" L x 1" W
Ribbed Rumbler Silicone Attachment: 10.25" L x 1.5" W, 6.25" insertable length
Sweet Spot Silicone Attachment: 10.25" L x 1.5" W, 6.5" insertable length
Flat Silicone Attachment: 10.25" L x 4.25" W
Thrust Toggle: 2.5 inches
G-Thrust Toggle:3.25 inches
Storage Cap: 3.75" x 4.5"
Right Angle Wedge: 3.25" x 14.5"
Power Supply: A/C Adaptor & Cable input: 100-240 V ~ 2.2 A
DC length: 12 feet
Attachment materials: 100% silicone
Brand: Doc Johnson x Motorbunny
Model #: 9000-01-BX