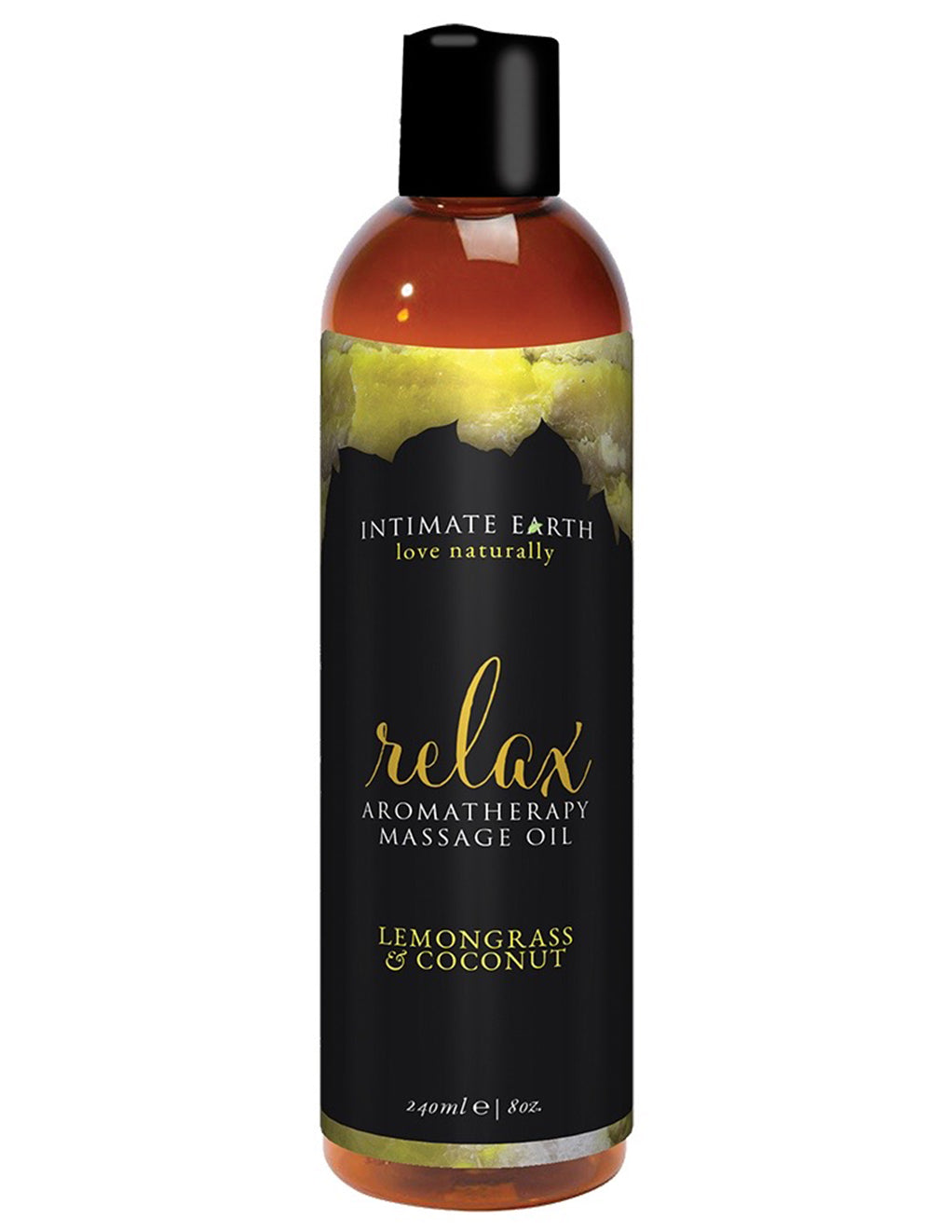 Intimate Earth Relax Massage Oil 4 oz
The Relax Massage Oil by Intimate Earth will soothe your senses with the aromas of lemongrass and coconut.  Intimate Earth Massage Oils use sweet almond oil as the base for their glide.  It gently glides over the skin while nourishing and moisturizing it.  It leaves your skin feeling soft while soothing your senses.  This oil is a great moisturizer for after baths or showers.
This massage oil is made with all natural ingredients.  It is body safe and safe to ingest.  
Ingredients: Prunus Amygdalus Dulcis (Sweet Almond) Oil, Helianthus Annuus (Sunflower) Seed Oil, Cocos Nucifera (Coconut Oil), Aroma, Tocopheryl Acetate (Vitamin E), (*Lycium Barbarum (Goji) Fruit, *Cymbopogon Schoenanthus, *Aloe Barbadensis Leaf)

*ORGANIC
Warm a quarter sized dollop between hands and apply it over the shoulder blades, neck, lower back, arms, and legs
Use as much oil as desired
Wash off with warm water and mild soap
Details
Ingredients: Prunus Amygdalus Dulcis (Sweet Almond) Oil, Helianthus Annuus (Sunflower) Seed Oil, Cocos Nucifera (Coconut Oil), Aroma, Tocopheryl Acetate (Vitamin E), (*Lycium Barbarum (Goji) Fruit, *Cymbopogon Schoenanthus, *Aloe Barbadensis Leaf)

*ORGANIC
Size: 4oz
Brand: Intimate Earth
Model #: 009/120IE