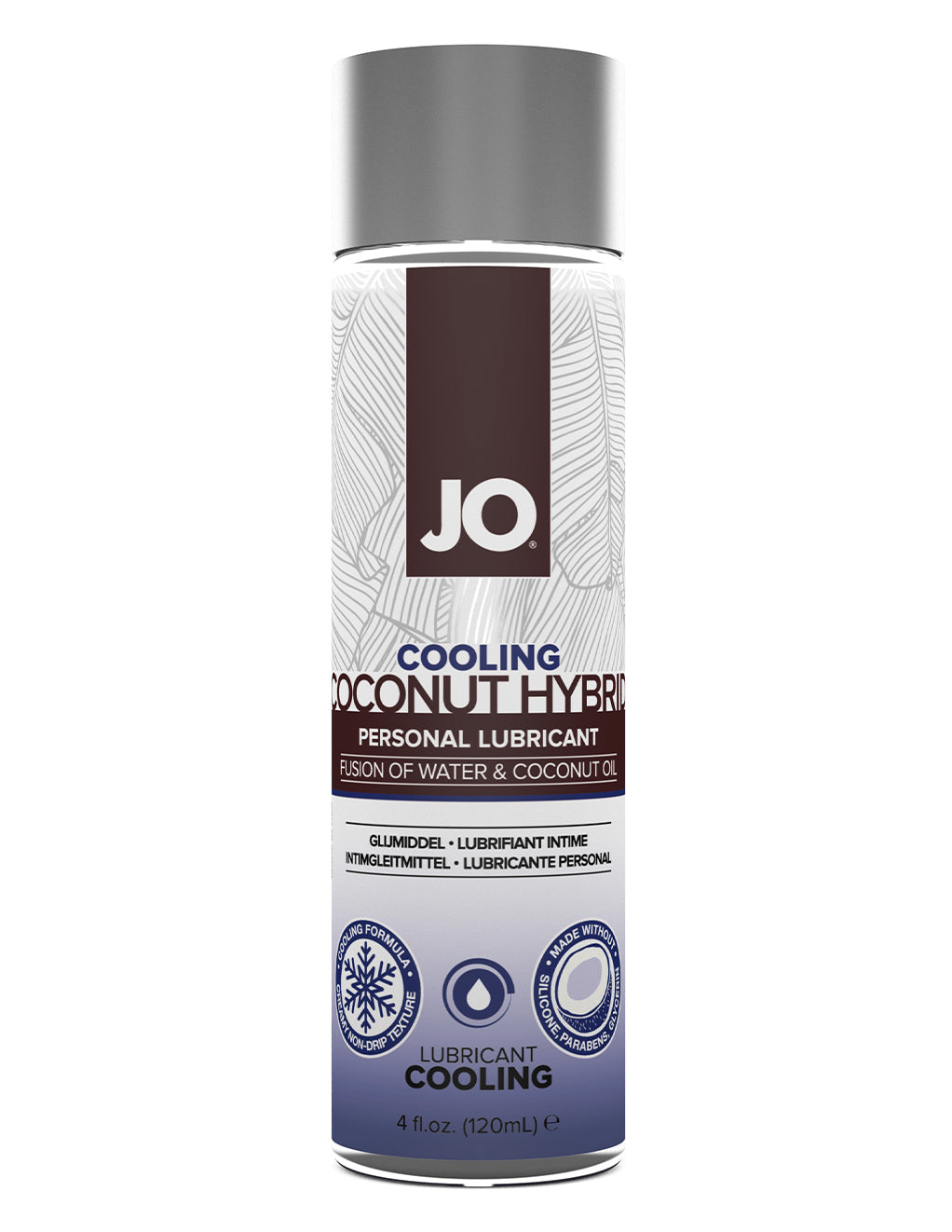 Jo Silicone Free Hybrid Cooling
Jo Cooling Coconut Hybrid is a silicone free, water & coconut based lubricant.  It has a silky smooth texture with a creamy viscosity.  It is compatible with silicone toys.  It has the aroma and taste of coconut.  This lubricant is perfect for sex or masturbation.  It moisturizes after use and does not drip while using.  This product starts off rich and thins out during use.  This lubricant is great for hot summers or lovers that like the cooling effect on their genital areas.  It can be applied directly on the nipples, clitoris, labia, and penis.  It is safe to use for vaginal and anal penetration.
 This lubricant is paraben and glycerin free. 
Not compatible with latex & Polyisoprene condoms.

Ingredients: Water (Aqua), Propylene Glycol, Caprylic/Capric Triglyceride, Cocos Nucifera (Coconut) Oil, Flavor (Aroma), Phenoxyethanol, Polyacrylate-13, Cellulose Gum, Raphanus Sativus (Radish) Seed Extract, Polyisobutene, Polysorbate 20, Butyrospermum Parkii (Shea) Butter Extract, Ethyl Menthane Carboxamide, Methyl Diisopropyl Propionamide, Beeswax, Glyceryl Stearate, Menthyl Lactate, PEG-100 Stearate, Stearamidopropyl Dimethylamine Lactate, PEG-45M, Caprylyl Glycol, Phenethyl Alcohol, Ethylhexylglycerin, Polyquaternium-67.
Apply a quarter size and reapply as desired
Wash off with warm water
Details
Scent/Flavor: Coconut
Ingredients: Water (Aqua), Propylene Glycol, Caprylic/Capric Triglyceride, Cocos Nucifera (Coconut) Oil, Flavor (Aroma), Phenoxyethanol, Polyacrylate-13, Cellulose Gum, Raphanus Sativus (Radish) Seed Extract, Polyisobutene, Polysorbate 20, Butyrospermum Parkii (Shea) Butter Extract, Ethyl Menthane Carboxamide, Methyl Diisopropyl Propionamide, Beeswax, Glyceryl Stearate, Menthyl Lactate, PEG-100 Stearate, Stearamidopropyl Dimethylamine Lactate, PEG-45M, Caprylyl Glycol, Phenethyl Alcohol, Ethylhexylglycerin, Polyquaternium-67.
Size: 4oz
Brand: System Jo
Model #: 40555