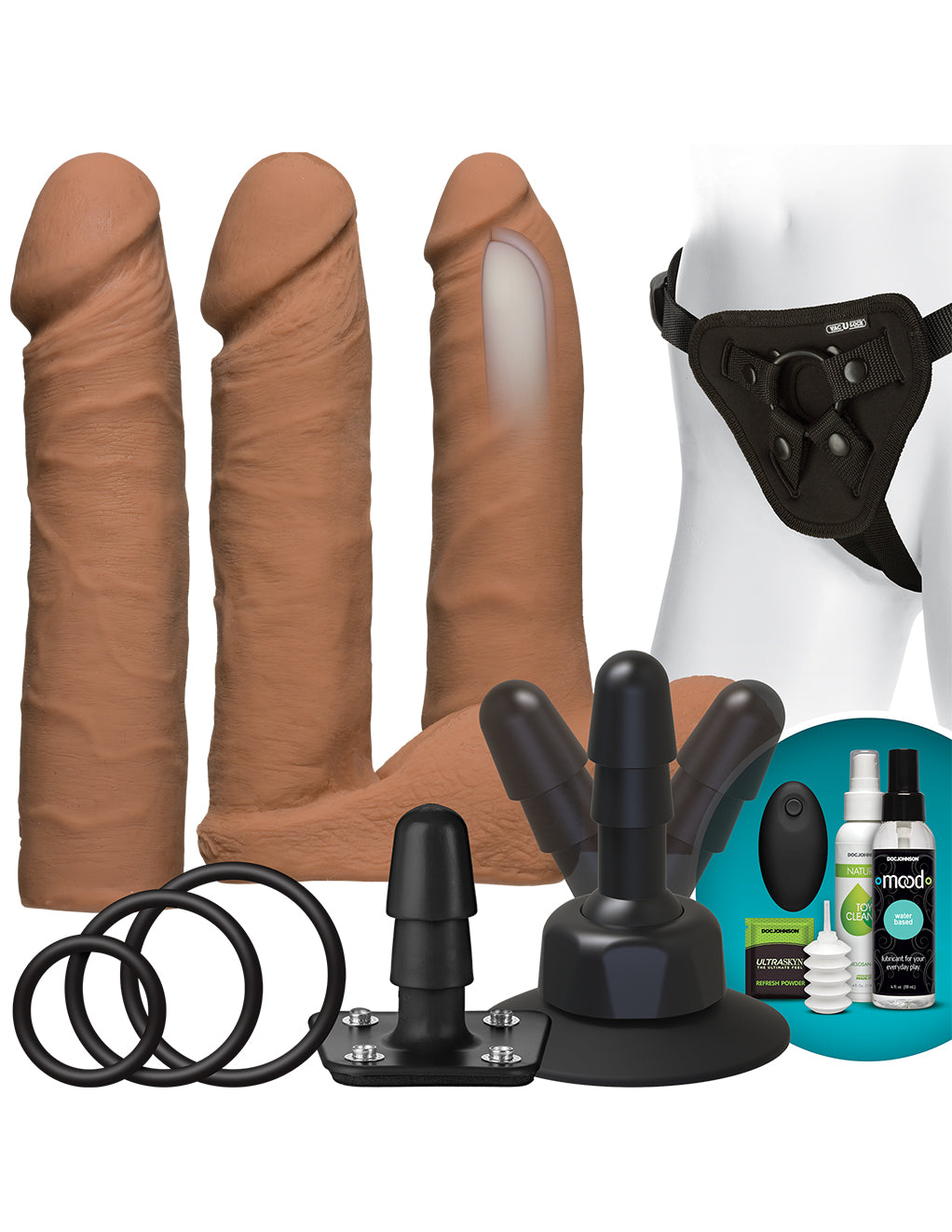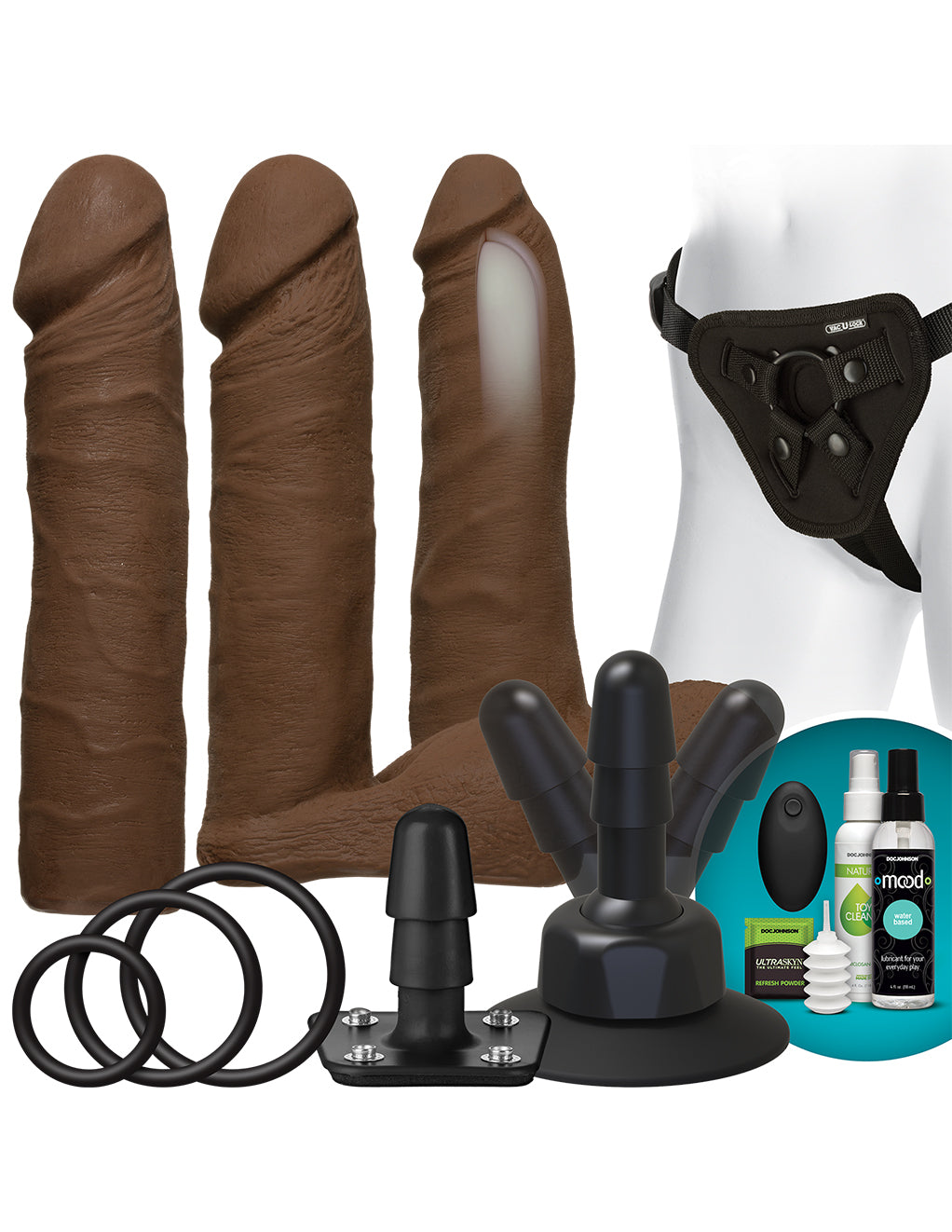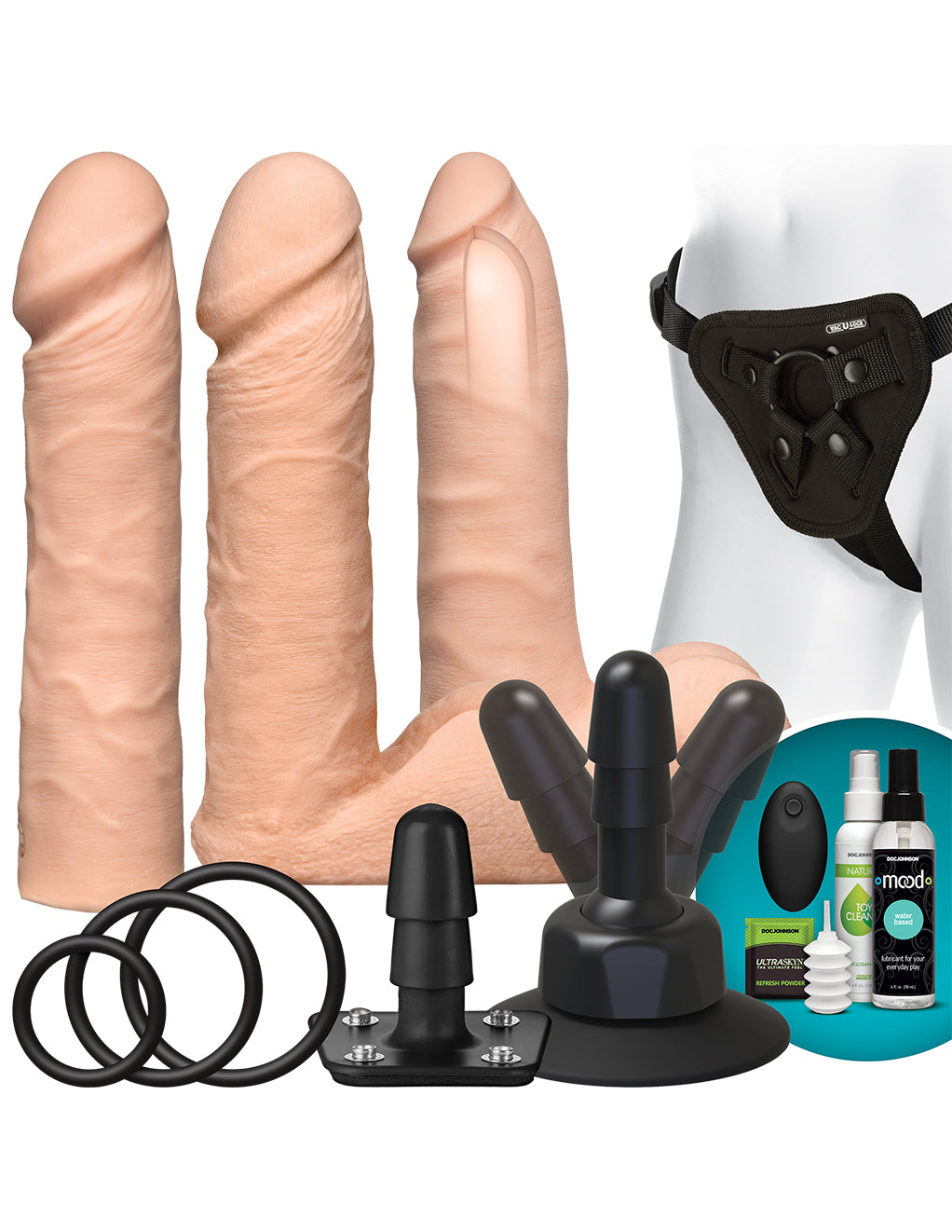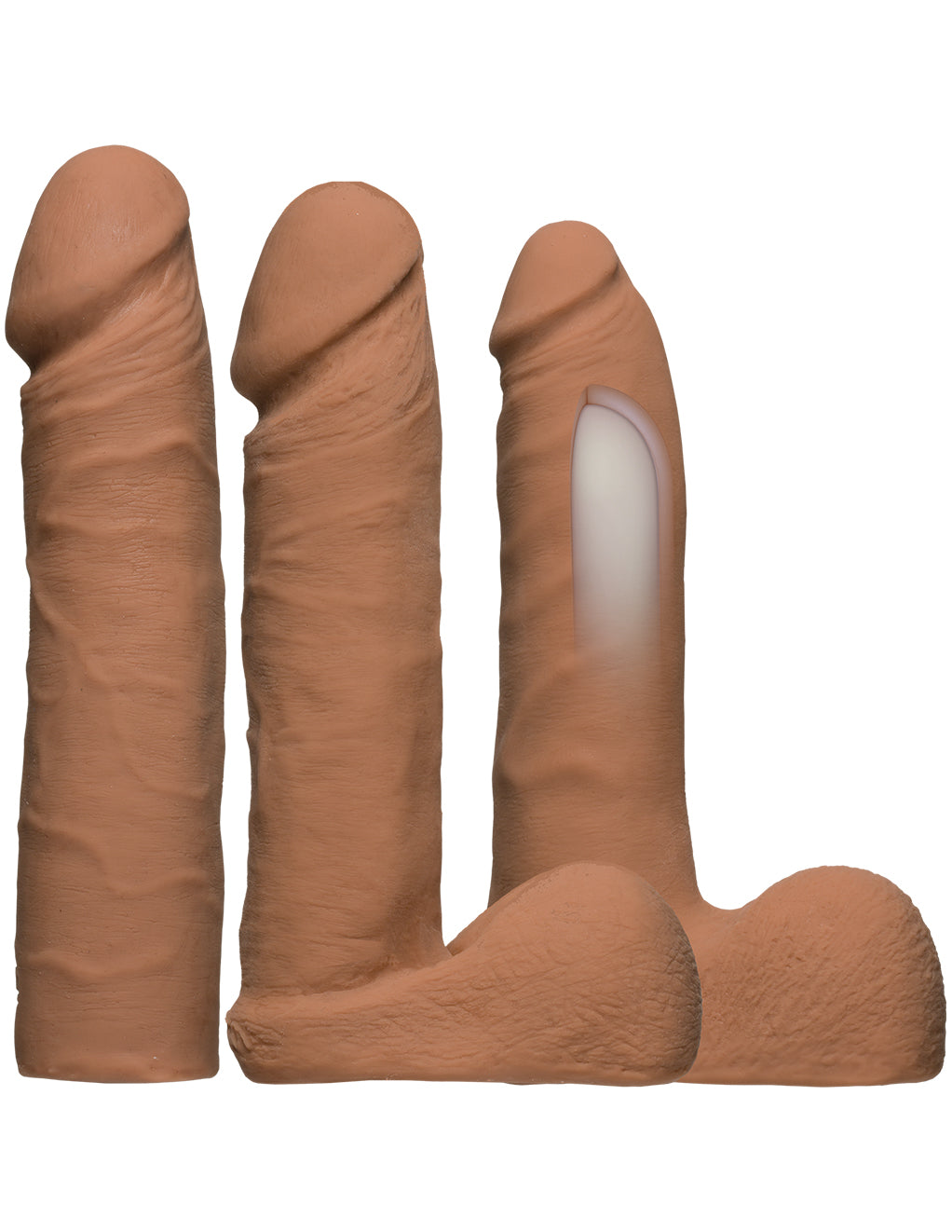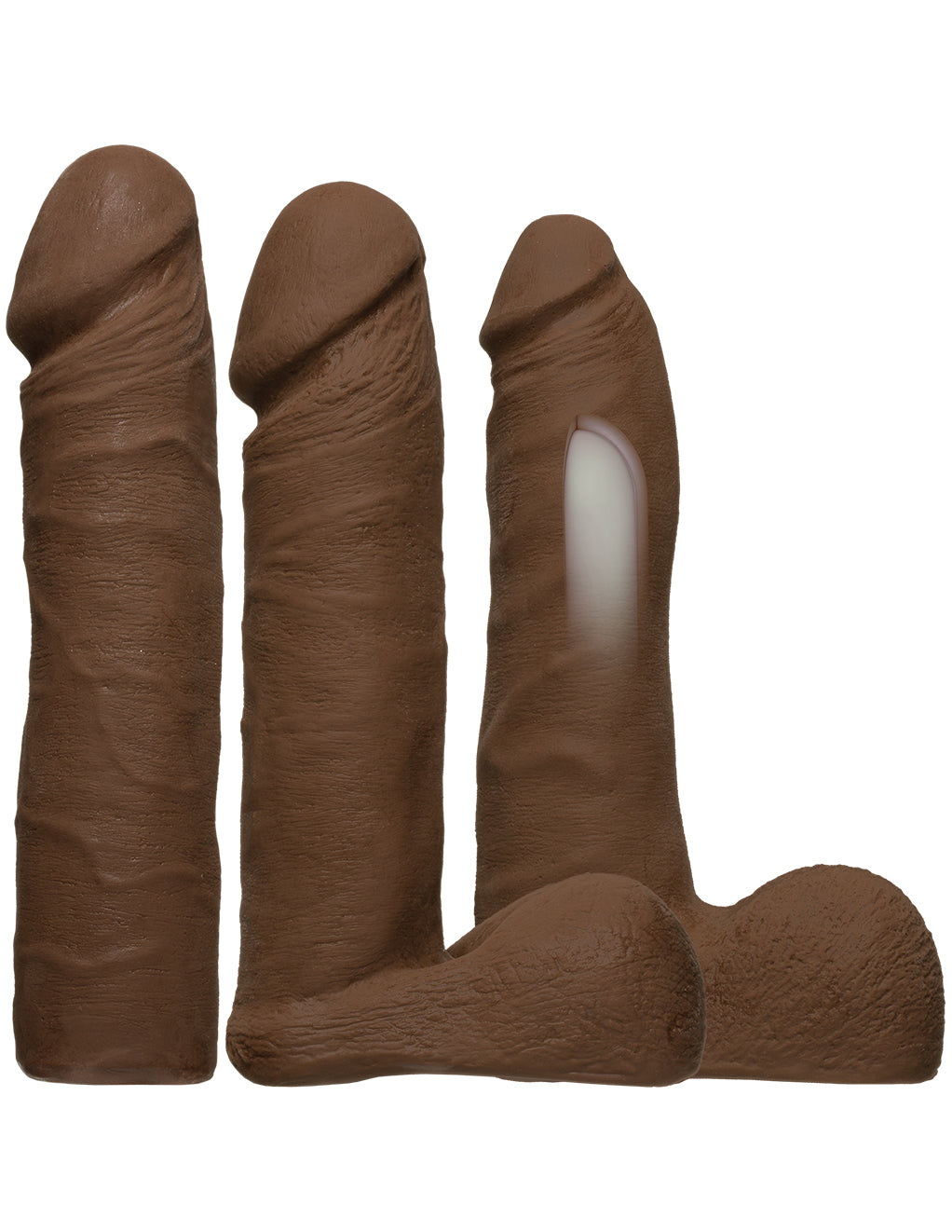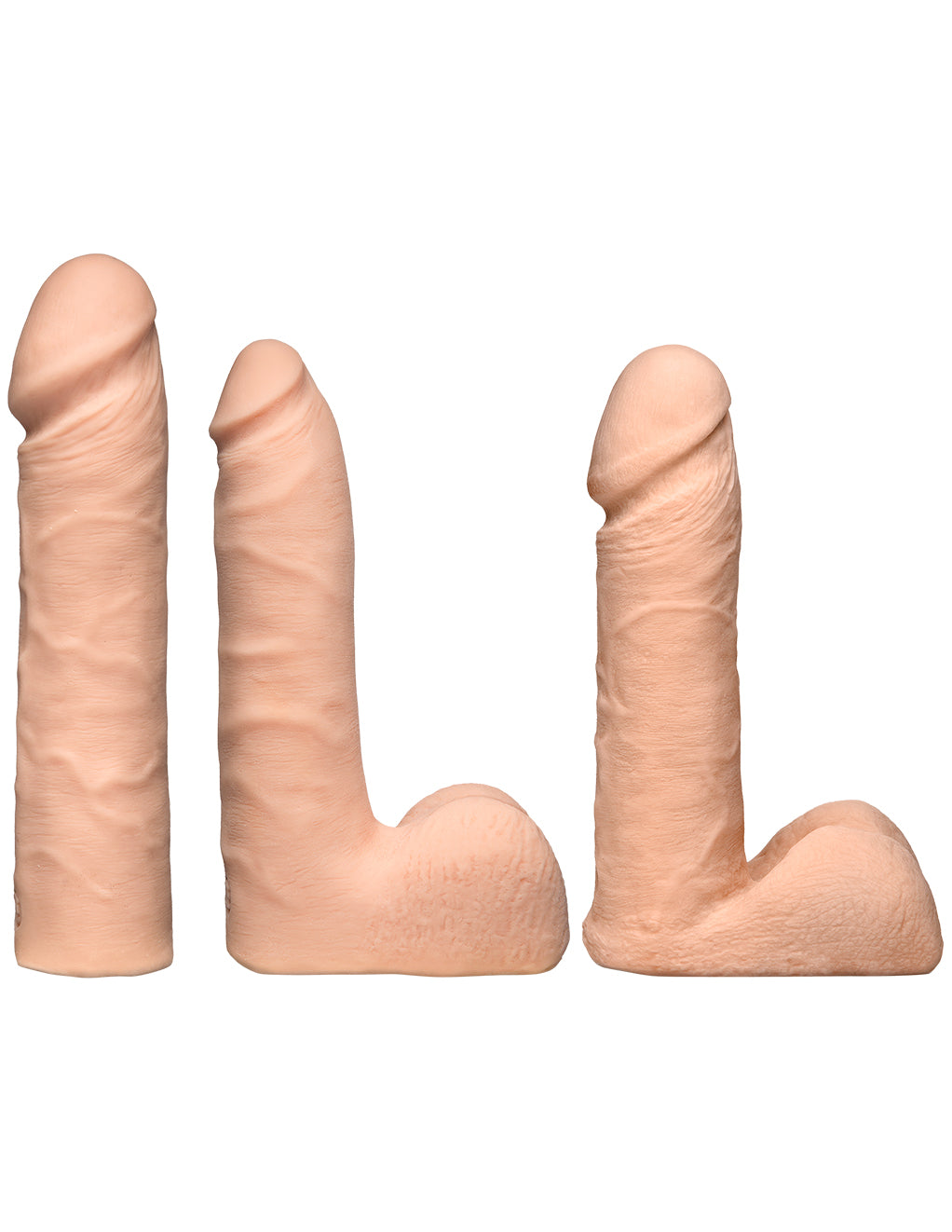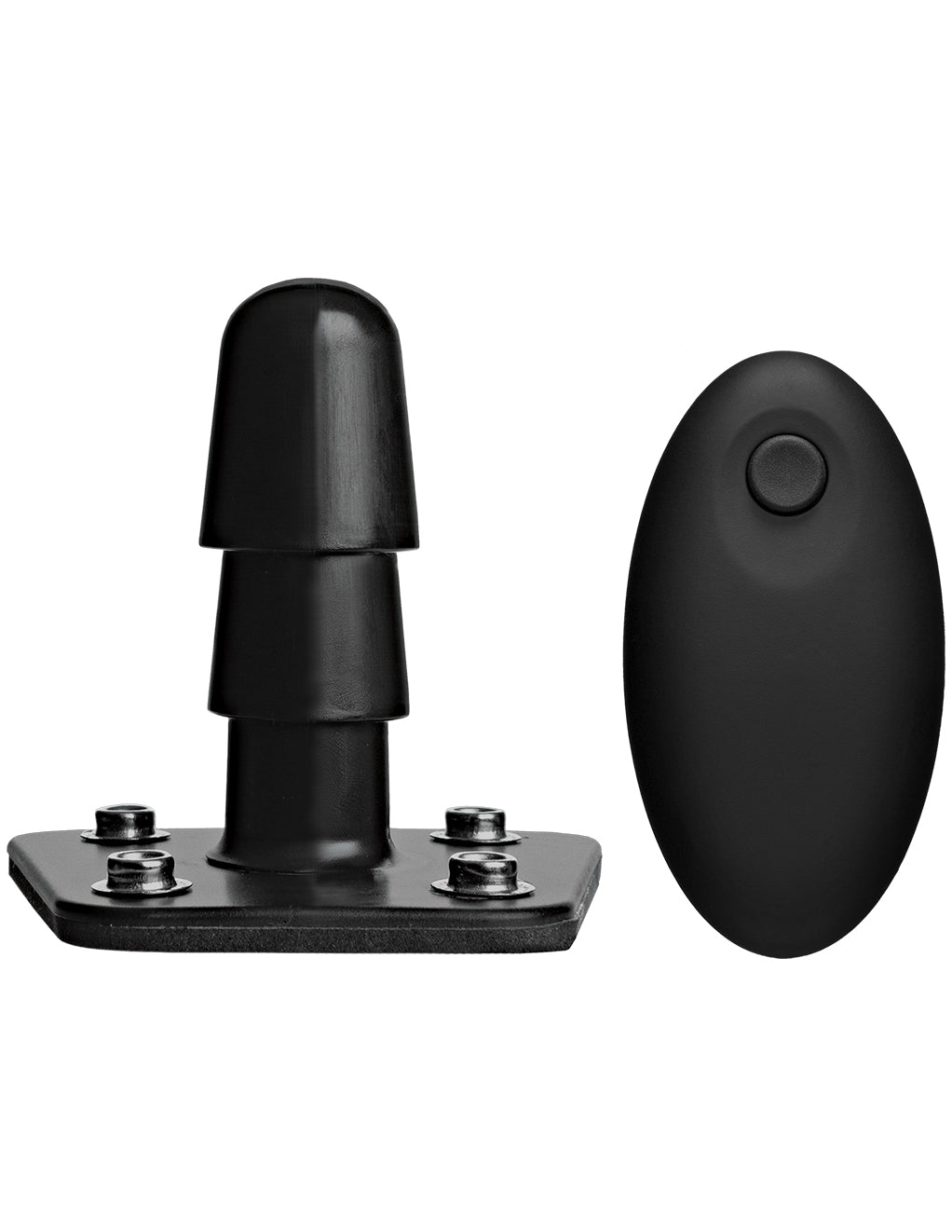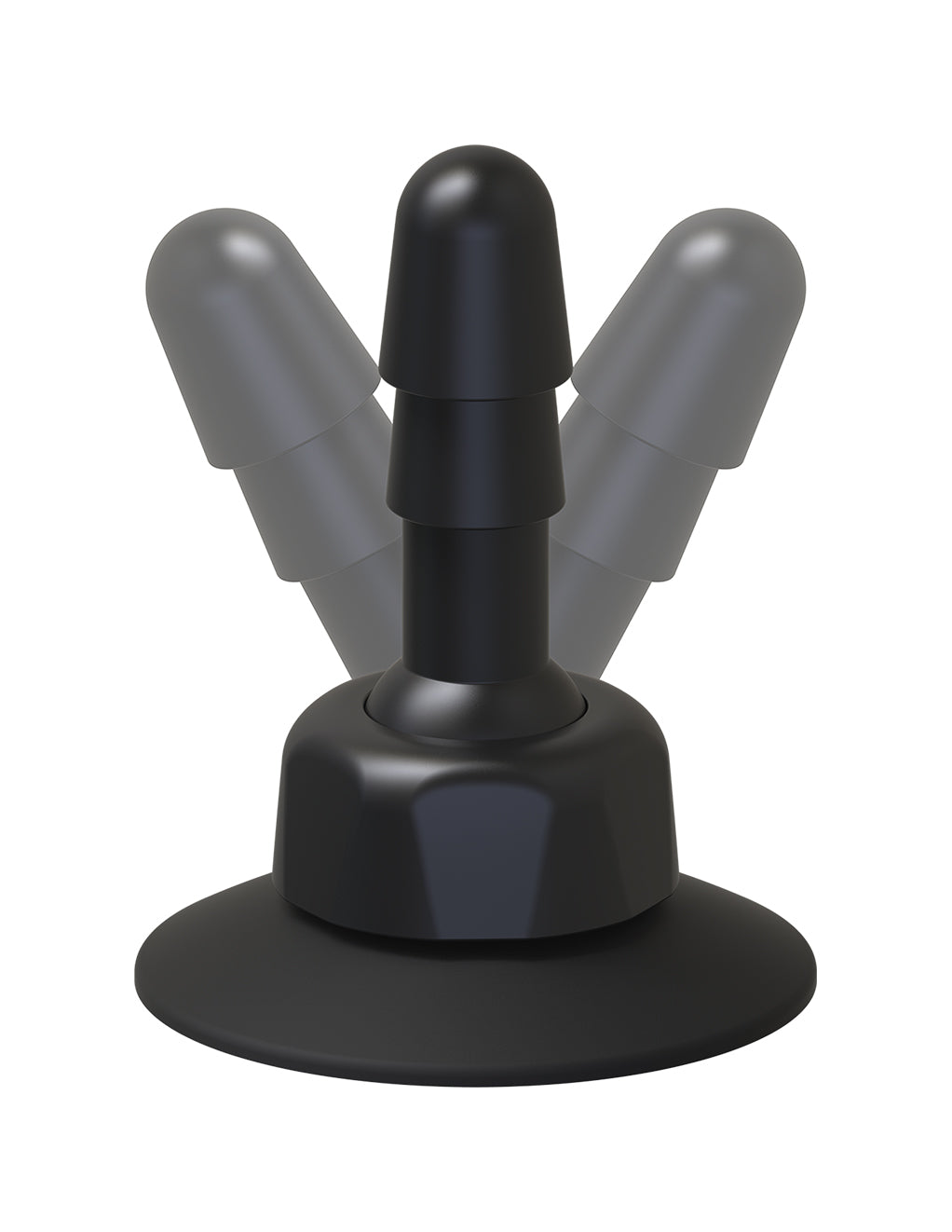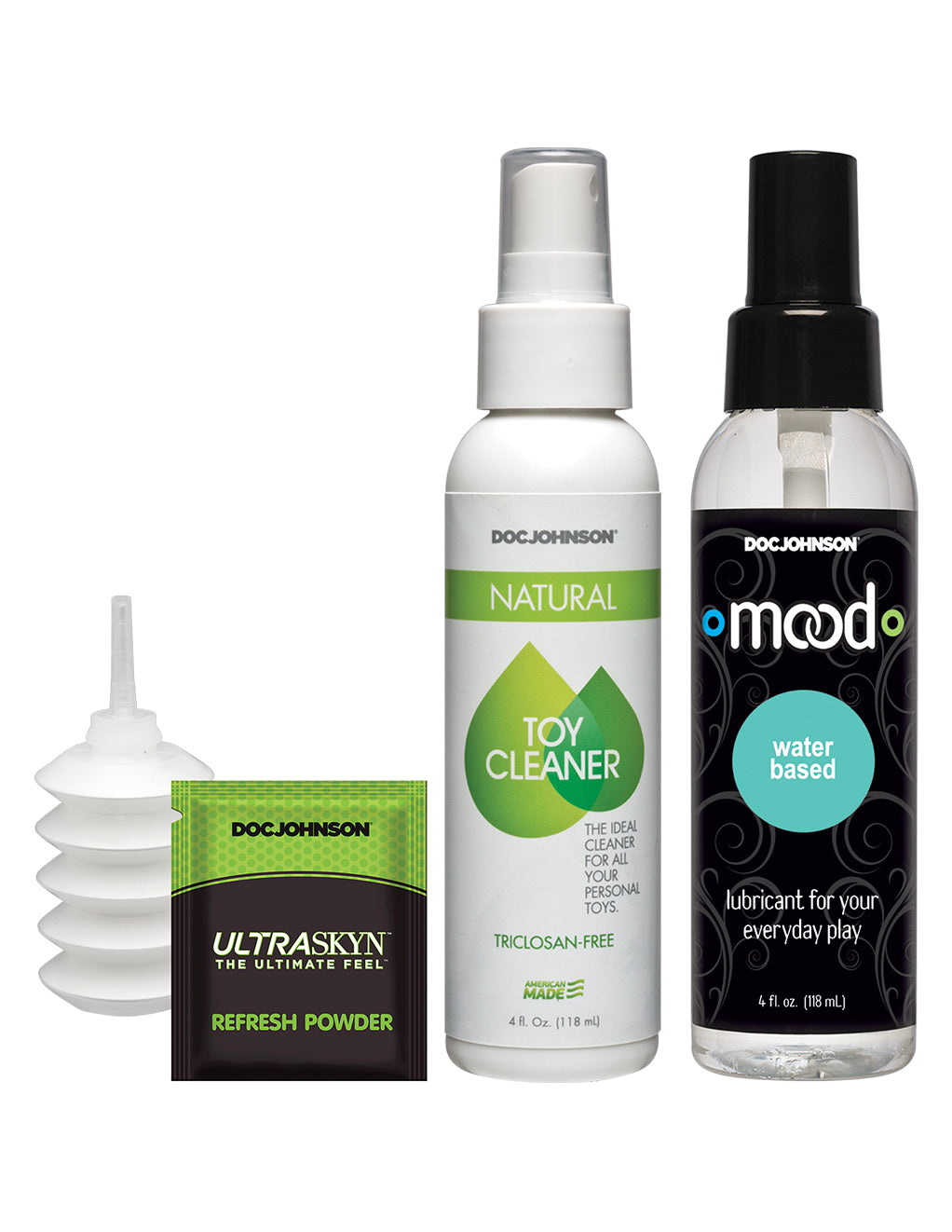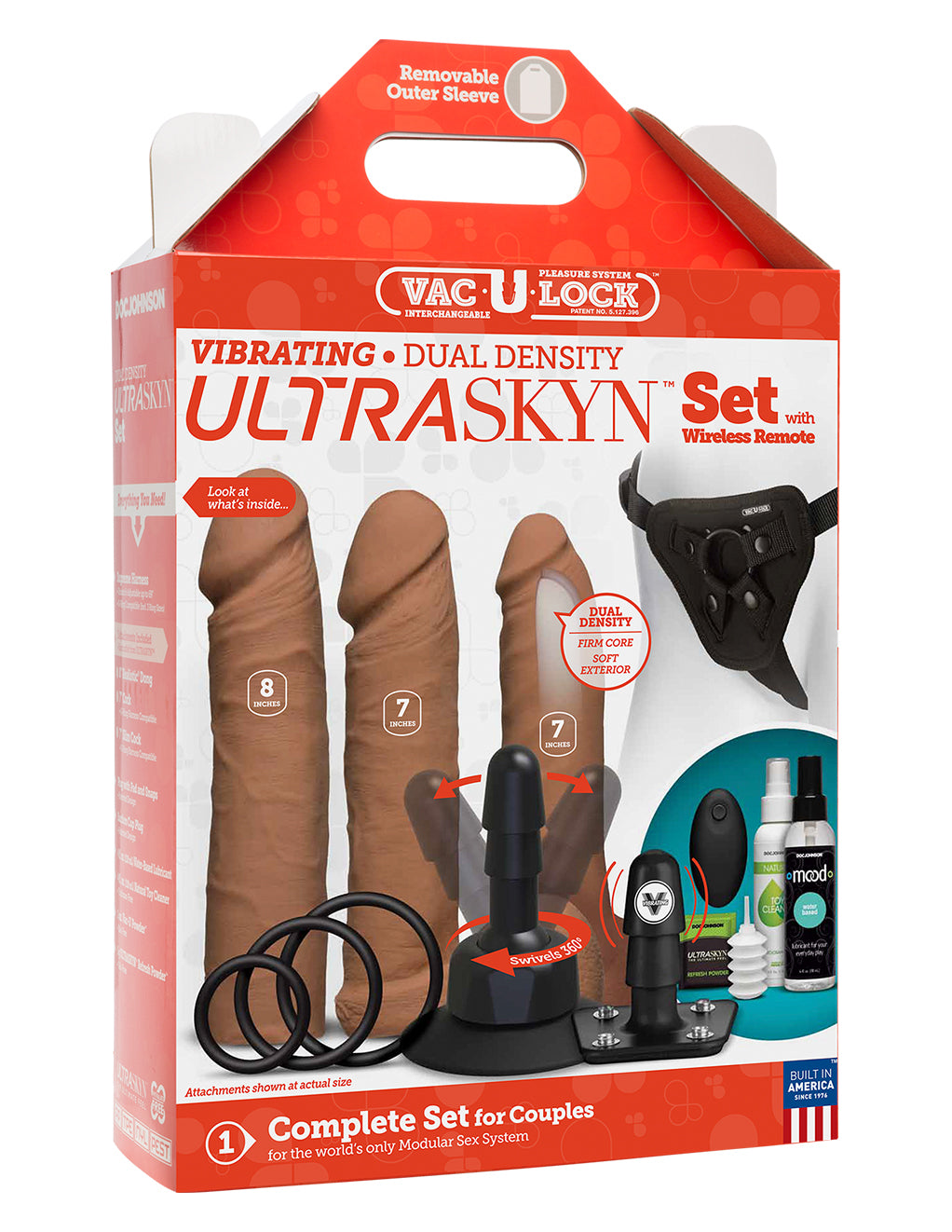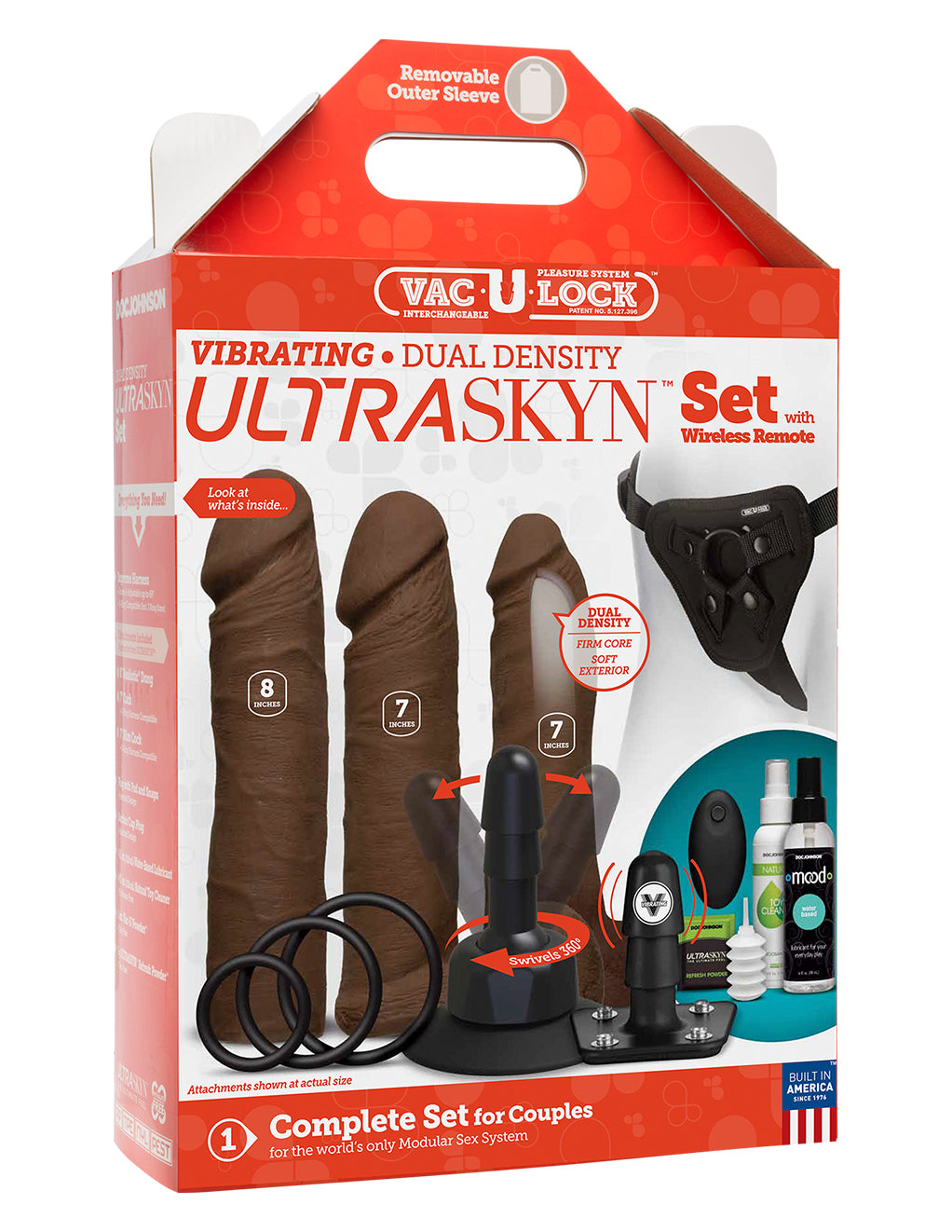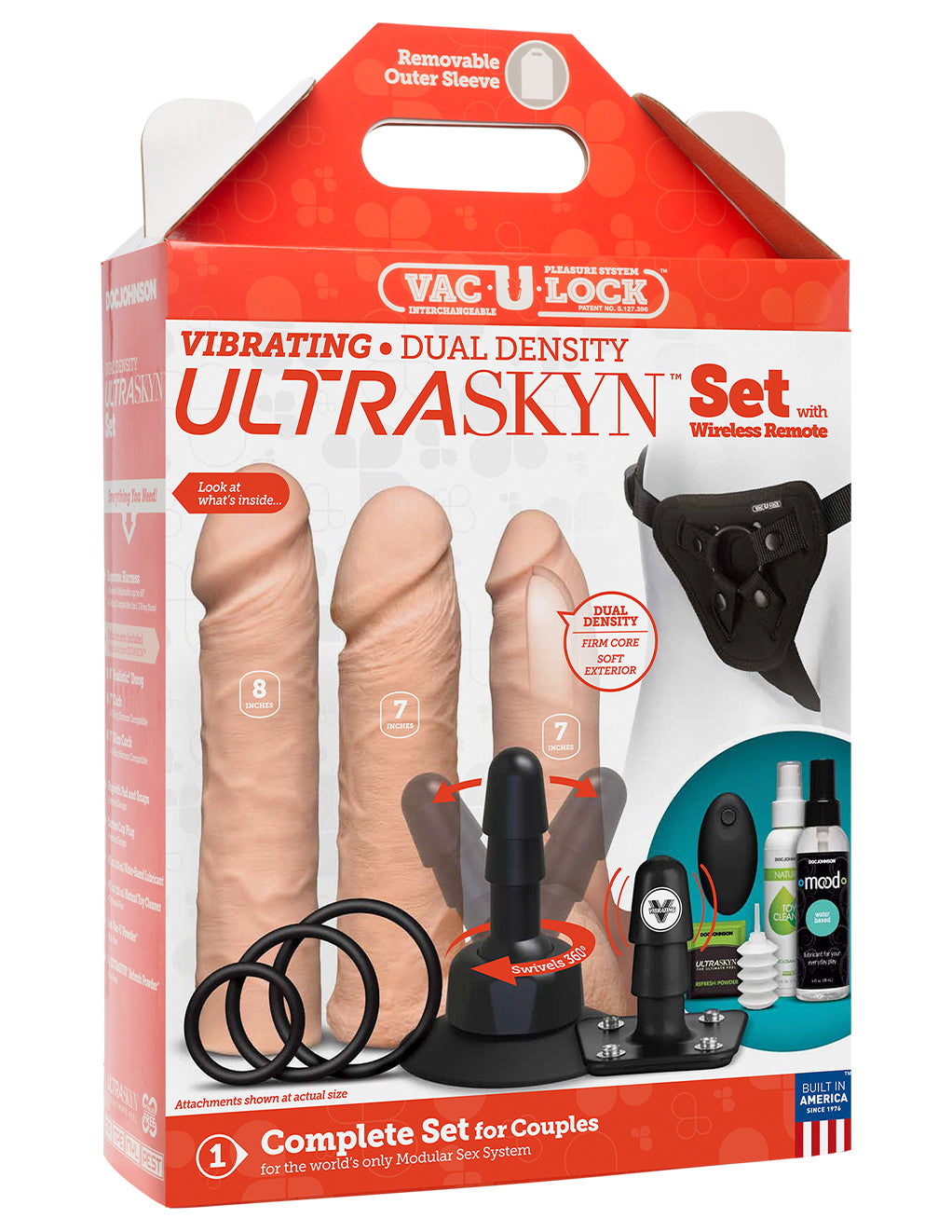 Vac-U-Lock Vibrating Ultraskyn Strap-On Set
This is the perfect strap on set, complete with remote to give you and your partner easily accessible control over vibrations in the moment.  This Vac-U-Lock Vibrating Strap-On Set comes with 3 dildos, 1 harness, accessories, lubricant, and care products.  The dildos are 8.25 inches, 7.25 inches, and 7.25 inches long.  They have 8.25 inches, 6.5 inches, and 6.25 inches of insertable length.  They are all 1.75 inches wide.  It is made with Ultraskyn and has dual-density.  It feels real to touch and you can feel a solid core when you squeeze it.  It has a soft and fleshy, realistic exterior that you will love.  Textured veins are found along the shaft to give extra ripples pleasure as it is thrust in.  
The dildos are O-ring compatible.  This kit comes with 3 sized rings to accommodate each size.  The harness is adjustable up to 69 inches.  
The kit also comes with a 7 vibrating pattern plug.  It makes any of these dildos vibrate, helps secure the dildo on to any Vac-U-Lock harness, and it comes with a remote.  The dildos fit into any O-ring harness.  A 360 degree action suction cup comes in the kit to apply the toy onto any non-porous surface for hands free action.  
In the kit you will find water based lubricant, toy cleaner, and toy powder.  These items will keep your toys clean and looking new every time.  
This product has a 90 day warranty, honored through the manufacturer. To make a warranty claim, please click here.
Compatible with only water based lubricants
Wash with warm water and toy cleaner
Store in a cool, dry place away from direct sunlight
Sprinkle toy powder to absorb any excess moisture
Store TPE products separately to avoid damage
Details
USB Rechargeable
7 Vibrating patterns
90 day Warranty via Doc Johnson
Please read before using your product
Size: Adjustable up to 69 inches
Material: TPE/PP/NEOPRENE, Ultraskyn
Color: Caramel, Chocolate, Vanilla
8 inch: 8.25 inch length, 8.25 inch insertable length, 1.75 inch width
7 inch: 7.25 inch length, 6.5 inch insertable length, 1.75 inch width
7 inch slim: 7.25 inch length, 6.25 inch insertable length, 1.75 inch width
Brand: Vac-U-Lock, Ultraskyn, Doc Johnson
Model #: 1053-06-BX (Caramel), 1053-07-BX (Chocolate), 1053-05-BX (Vanilla)