1. Make Dinner at Home
There's something intensely intimate about rolling up your sleeves, opening a bottle of wine, and putting on a jazz record while chopping veggies together. Not a master chef? Whip up a fancy cheese and salami board instead! Cooking together truly captures the spirit of domestic bliss, plus you're a lot closer to the bedroom. Bonus Tip: Don't forget to include some aphrodisiacs. 
Leave the dishes for the AM ;)
2. Take a Class Together
Re-enact the infamous scene from Ghost at a local ceramics shop, get your blood pumping and increase your stamina with an exercise class, or even stop by your local HUSTLER store a for a short lesson in the art of lovin'. There's something very sexy and stimulating about learning together.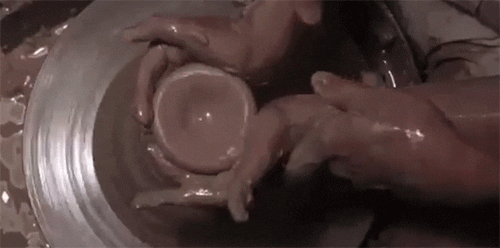 3. Have a Sexy Game Night
Heat things up with a little friendly competition! Why not make your average board game sexy? Strip Monopoly might take a little too long but Strip Sorry! could be quite interesting. Or check out our sexier games for adults only that are guaranteed to build tension.
4. Go Stargazing
Grab some snacks, pack a bottle of wine, and plan a picnic under the stars. Drive out to a spot outside the city and cuddle up to keep warm. We can't advocate getting sexy outdoors but we won't tell anyone if you get a little handsy under a blanket ;) 
5. Shop For a Sex Toy Together
Why not take your date to your local HUSTLER store to pick out your own gifts? Try on some sexy lingerie to wear at home and then cruise on over to the toy section to find something special to make it a night to remember!
6. Have a Sexy Photoshoot
If you don't have a professional camera, grab an InstaX or Polaroid and get ready for your close up! Wear your most seductive undies and take turns capturing each other's sexy – and silly- moods.
7. Go (Dirty) Dancing
If you aren't a ballroom dance expert, don't stress. Head to a Salsa class and quickly pick up a simple one-two-three step, or just head to the club and get your grind on!